Enjoy life and make it enjoy. Share knowledge, ideas and different views. With our tours we intend to offer A perfect match of fun where personal interactions, sports, history and art intermingle to create unforgettable memories, to create adventures!​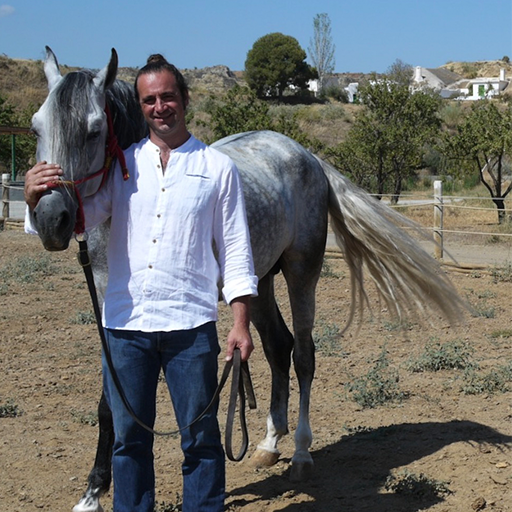 Goyo Garrido
Coordinator & Guide
GOYO GARRIDO GARCÍA
(Cantabria 1.976) Cantabrian by birth and from Granada by adoption. I grew up in Espinama, a Cantabrian town of about 100 inhabitants in the heart of the P.N. Picos de Europa, surrounded by mountains, mountains and adventures. I was fortunate to have a local mountain club where I started enjoying the mountains, trails, pens, pastures, and mountain routes and the parents who taught me how to move like a fish in the water. When I was only 5 years old I did the Ruta del Cares and when I was 8 years old I started skiing, it seemed that the mountain would always be close to me. Throughout my childhood and adolescence I have dedicated a lot of time to mountain sports, many routes through the mountains, weekends on it. I became a member of the Valdecoro Mountain Club and the Torrelavega Sports Society, both allowed me to get to know and enjoy the Cantabrian Mountains. Once I finished the secondary school studies I started working, but I always
work related to the fields, the mountains and animals:
Forest Ranger in the P.N. Peaks of Europe.
Rancher, with 90 head of cattle and several prizes gain for some of them. Thoroughbred horse trainer in Coolmore Thoroughbred (Co. Tipperary – Ireland) one of the most important thoroughbred horse breeding farms in the world.
Assistant director in the dressage team at Coolmore Thoroughbred (Australia) Freelance pure sandre horse trainer for Coolmore Thoroughbred in Newmarket (UK).
In 2006 I moved to Andalusia and I had the opportunity to work as a
tour guide in different activities: guide of routes on horseback, canyoning, tekking, skiing, MTB, 4×4, raids.
Since then I have dedicated myself to be a guide and monitor of different sports I have been fortunate to dedicate my life to my passion, traveling and doing sports: Cycle tourism guide in Cuba, Portugal, South of France, the Italian islands, Morocco and Gibraltar, and of course Spain; Rioja, Andalusia, Gerona and the Camino de Santiago. Hiking trips throughout the national geography, also in Andorra, Portugal, the Macaronesia Islands. Barranco guide, in 2012 I obtained the official title of canyoning TD2 with the Aragonese School, maximum training in this modality that allows me to guide groups and train future guides. Since then I have developed canyoning activities in Australia, the Maritime Alps, the Pyrenees, the Pre-Pyrenees (Guara), the Betic and Penibetic Systems, Extremadura, Sardinia, the Macaronesia Islands, the Cantabrian Mountains. Ski teacher in Pas de la Casa (Andorra) and Sierra Nevada for the last 13 seasons in the modalities of telemark, mountain skiing and alpine skiing for which in 2018 I obtained the official title of TD3 in alpine skiing, the maximum training for be a coach of this modality. Equestrian tourism guide in Andorra and in the north of Granada (Granada Geopark) Trainer of guides, FP qualifications. TD2 = medium grade canyoning TD3 = top grade. Alpine ski​
Esmeralda
Coordinator & Guide
Hello! I am Esmeralda, Oficial Local Guide of Granada specialising in private tours. I am a italian antropologist who move to Granada 17 years ago. Once here I took a Master in Intercultural Education and study to become an offial local guide of Granada and Guadix. I am particularly interested in history and art, but my training has led me to intermingle this knowledge with what truly enriches a culture: its local traditions: ways of living, music, art, religion and philosophy, which are transmitted narratively and humorously. Thanks to my passion for travel (I have traveled in several continents and countries: almost all over Europe, Turkey, Persia, Asia, South America and North Africa) I am able to contextualize events on a large scale and approach history from different points of views. I will take you beyond the beauty of historic sites and give you a tour that explores all the complexities of this land full of history, literatura,philosophy and cultures (Christian, Muslim and Jewish) who shared the same space for centuries in medieval times.

It will be my pleasure to show you the beauty of this city and to transport you to the magical time of the medieval Alhambra. I can offer you dynamic tours narrated in a lively way that will transport you into the atmosphere of the time and I can tailor them to your own requests and interests. Just let me know!​
Due to the Covid emergency, we only offer private tours to families or groups of friends.​